Saturday 14th October 2017
8.00 pm
After great shows at the Acorn Penzance and the Lane Theatre Newquay in early July, we have been inundated with requests for a return visit.
So back by public demand The Producers return to Cornwall in October.
One of the most exciting and stylish bands on the circuit, are something really something special, playing the freshest live blues in Britain today. Concerned with feel and attitude rather than slavishly copying 'hand me down' American music, The Producers move effortlessly between their own well crafted material and seriously reinvigorated classics stamped with their own characteristic identity.
Celebrating their 25th anniversary The Producers have embarked on a nationwide tour and are barnstorming across the country, building on their already massive audience at sell-out club dates and continuing to develop their impressive reputation that no one can ignore.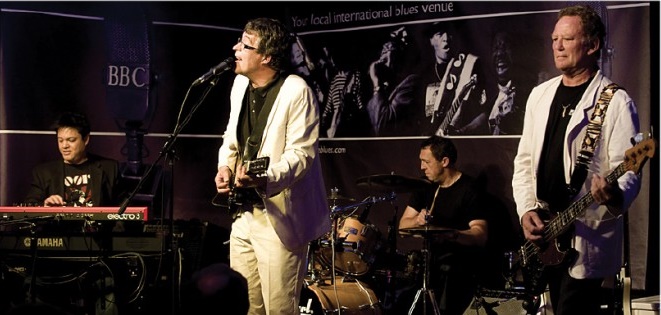 Being invited to play prestigious Festival slots is always a sign of a band on its way, however receiving invitations to open concerts for luminaries like John Mayall, Taj Mahal, Dr John, Peter Green and Robert Cray has quickly led to The Producers becoming a major attraction in their own right. With thirteen acclaimed albums to their credit, air play and live appearances across Europe, the States, the Bahamas, Australia and New Zealand, The Producers are playing headline dates and rightfully assuming a prominent position on blues awards podiums.
Dave Saunders and Harry Skinner formed The Producers in 1990. They went on to be one the most popular blues outfit in the country at that time. Winners of the 'Blues Band of the Year' award 4 times, releasing 13 CD albums to date, one of which 'Ain't No Love in the World' was nominated for the 'Best Blues Album' award..
The Producers highly acclaimed CD and Vinyl record 'London Blues' released in 2011 created significant excitement within the blues community and the music industry in general. The album featured guests Paul Beavis (Go West, Low Riders) Andy Fairweather Low (Eric Clapton, Roger Waters) Ben Waters and 5 times blues award winner Paul Lamb on Piano and Harmonica respectively with all the material being self penned originals. .
"25 Years" is The Producers latest album, released to coincide with the tour and reflects the values of their first album (Escape from Muswell Hill 1992) It features 4 new original songs and a selection of old favourites often performed on stage but never before recorded. Thus connecting the band to both its past and its present.
The band regularly sell out venues around the country, headlining many festivals including Colne, Burnley, Stanley Blues, Dublin Templebar, Cork, Farnham, North Wales Blues Festival and not forgetting the St Ives September festival. Belgium, Ireland, Holland and France played host to Producers tours and a month long tour of New Zealand included playing at the "International Tauranga Blues + Jazz Festival" where they received great acclaim. At the Cognac Blues Festival in France they were joined onstage by headliner Ray Charles' brass section and, memorably, his 'Raelets' shimmying and dancing in front of them!
They were featured in session on the Paul Jones Blues Show on BBC Radio 2 and have been praised by both Johnnie Walker and Bob Harris. Peter Green the Fleetwood Mac guitar legend asked The Producers to provide the support for his first national tour for 25 years, The Producers also featured on the BBC documentary of the Buxton concert.
Harry and Dave front the band ably assisted by Ray Drury on Organ and Piano and Biff Smith on the sticks and percussion.
Tickets £14 in advance £15 on the Door