We've compiled a few fantastic events that are happening in and around Newquay in June to get you in the mood for summer.
1. Conservation Awareness Month at Blue Reef Aquarium
When:
4th – 29th June
Learn all about Blue Reef Aquarium's conservation efforts the partners they work with to promote conservation within the aquarium.
Take part in the quiz and test your knowledge on issues like sea pollution.
They are also showcasing environmental art from brand new resident artist Lindsey Keates in the cafe area.
Look out for special offers and discounted tickets online.
For more useful info on how we can protect the marine environment, take a look at Blue Reef's Aquarium Newquay.
2. Rainbow Run
at RAF St Mawgan
When:
Sunday 24th June 2018
Race Time:
1pm
Making the most of short and precious lives across the South West. The Rainbow Run returns to Newquay for its fifth year in 2018 on 24th June.
Newquay's Rainbow Run is the brightest 5k around, where you can walk, jog or run your way through 5k of colour explosions of powder paint, to raise money for Children's Hospice South West!
Anyone aged 5 years and over can come and enjoy the fun so gather your friends, family or colleagues to enter a team to the event of the summer! Turn up in your white T-shirt and leave with a big smile, happy memories and covered in every colour of the rainbow!
Children aged between 5-10 and their participating adults will run a special 4k route for little legs.
PLEASE NOTE: Children can only take part with a paying registered adult.
The sponsorship you raise for taking part in Rainbow Run will be like a 'Pot of Gold' to our families and as a thank you for your hard work, we'll be giving prizes for your efforts (details and prizes to be confirmed) so get fundraising! Your registration fee only covers the cost of your participation in this event. Your sponsorship will help to support the vital work of Children's Hospice South West.
Visit Children's Hospice South West – Rainbow Run for more information.
3. Tunes in the Dunes
on Perranporth Beach
When:
8th, 9th, 10th June 2018
2018 will be the biggest and the best Tunes in the Dunes festival so far. There will be activities going on all across the beach, with two stages this year to host a fantastic line-up.
The main stage which will host headline names such as UB40 ft Ali, Astro & Mickey, Jake Bugg, Gabrielle Aplin, Protoje. The second stage which will be known as St Pirans stage which will play host to Dub Pistols, Backbeat Soundsystem, Motown Pirates & many more.
New for 2018: The Big Top
The Big Top is a giant circus tent with loads of interesting things throughout the day to mix the day up a bit.
Friday & Sunday will have the same lineup which is a Silent disco in the evening with a circus workshop, a circus show & yoga throughout the day.
On Saturday there will be a circus workshop, a circus show, yoga, beach pilates & a surfside stretch.
Gin Bar
Hosted by Tarquins, the new gin bar will be serving up the best & most exquisite Cornish gin that you can get your hands on!
VIP AREA
Get to enjoy some amazing acts on the main stage under a stretch marquee put up by sky bar. This is on a higher platform for the best view possible.
Inside the area there will be:
Private luxury toilets.

Cocktail bar priding itself on making cocktails with naturally sourced ingredients.

Korev airstream serving cider, lager & spirits

Dj's will be playing in between the intervals of the main acts
A very limited number of tickets available due to the size of the area. Get them before they're gone!

For More information visit the Tunes in the Dunes listing.
4. Joe Way Paddle for Life
in Newquay Harbour
When:
Thursday 28th June 2018

Time:
4pm – 9pm
Joe Way Paddle for Life returns to Newquay Harbour for its annual event on Thursday 28th June 2018 in memory of Newquay's Joe Way who sadly lost his life due to a series of illnesses.
Join us at Newquay Harbour on Thursday 28th June for Newquays only Pride of Britain winners event.
Here's a schedule of entertainment planned for the day:
4pm – Steel Appeal (A steel band)
4.30pm – Sky Dive (Exciting sea rescue)
5pm – Daisy Clark (Acoustic music)
6pm – Blues Brothers on the run
7pm – Titan the Robot (Subject to availability)
8pm – Silent Disco (Rowing Club)
The Paddle for Life have raised nearly £150K and are aiming to raise £10k this year to take Joes Appeal to over £155k for over 20 charities.
The Joe Way Paddle for Life returns to Newquay Harbour 28th June 2018
They have had support from actor Ben Richards, singer James Morrison along with pro surfers Ben Skinner, Tom Butler, Alan Stokes, Kai Lenny, Robert August, Nat Young and many more.
The Joe Way Paddle for Life runs at ZERO cost and all the equipment, safety, printing, signage, banners, security, food, PA and musicians give their time and services for FREE which makes the event unique.
They would like to thank their four £500 sponsors this year Garage co ltd – The Boardroom surf shop – Oaktree Holiday Parks – Andy Loo's.

For more information, visit the Joe Way Paddle for Life website.

5. Lucky Balls
at Lane Theatre
When:
Every Tuesday and Wednesday – 12th June – 25th July 2018
Time:
Curtain up at 8pm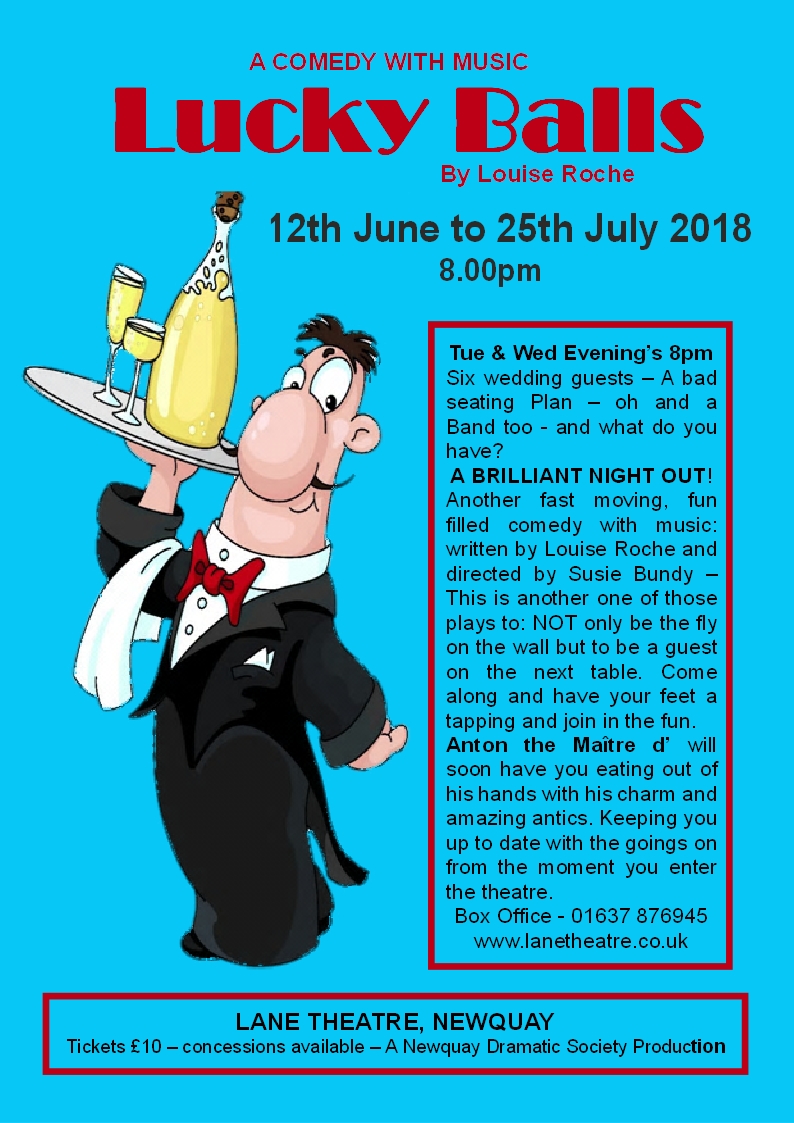 Lane Theatre's next production is due to open the curtain on another fantastic line up of summer shows; which also showcases a Dire Straits tribute act.

Newquay Dramatic Society presents:
LUCKY BALLS – Directed by Susie Bundy, written by Louise Roche
Six wedding guests – A bad seating Plan – oh and a Band too – and what do you have?
A BRILLIANT NIGHT OUT!
Another fast moving, fun filled comedy with music:
This is another one of those plays to: NOT only be the fly on the wall but to be a guest on the next table.
Come along and have your feet a tapping and join in the fun.
Anton the Maître d' will soon have you eating out of his hands with his charm and amazing antics. Keeping you up to date with the goings on from the moment you enter the theatre.
Tickets £10/£9 concessions

For more details please visit Lane Theatre.
Visit our What's On calendar for up to date event information.