The Joe Way Appeal has had another 'Paddle for Life' longboard donated by Skindog Surfboards after helping the British surfing team with their dream of representing Great Britain.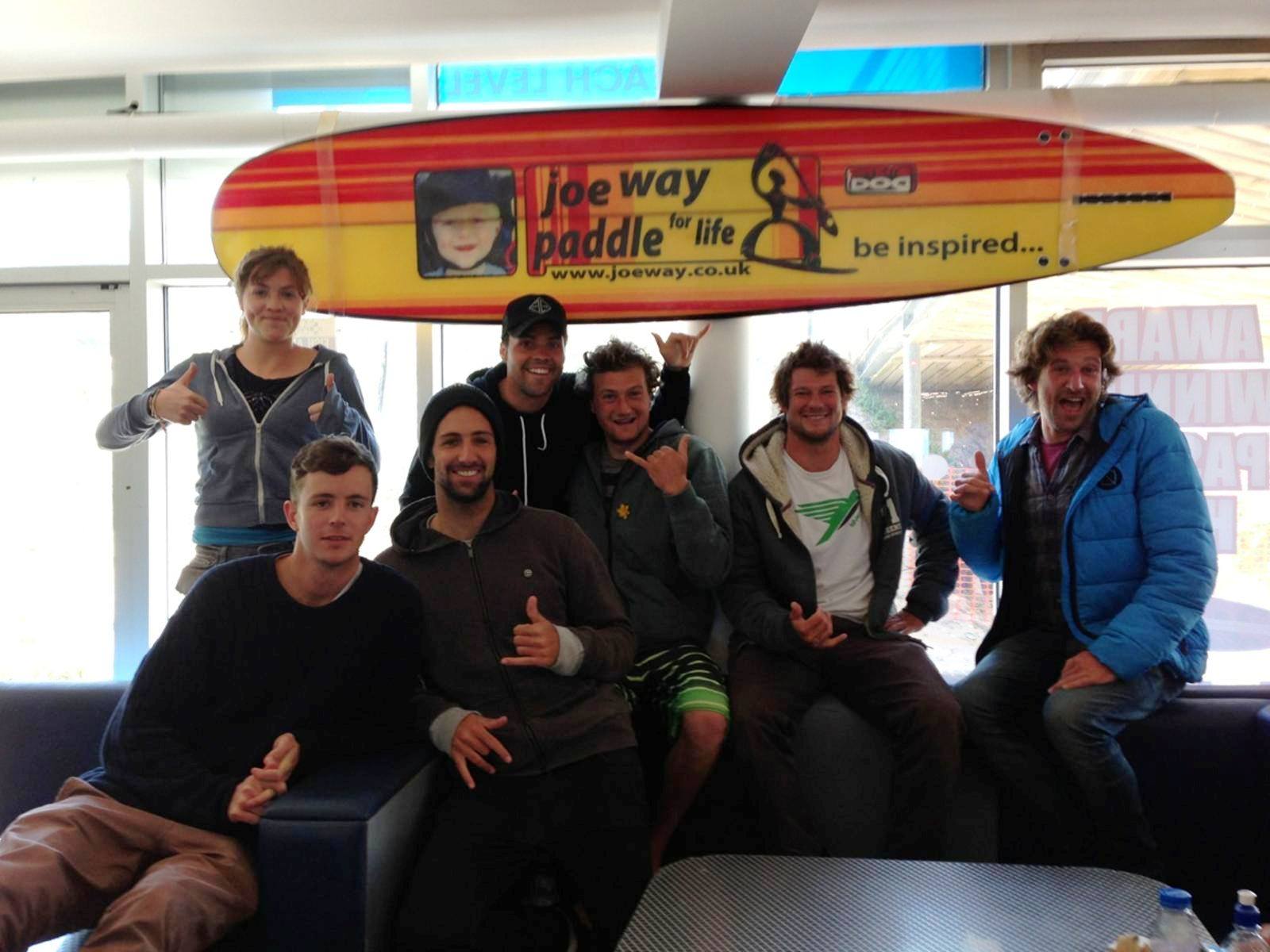 The second version of this iconic board is believed to still be the only longboard in the country with a full digital print on both sides that is also ridden as well as used for PR. The board shape is Skindog's new Magic model.
The first longboard has been put on show at the Fistral café located in the Fistral surf centre in Newquay.
Nick and John Briant from Britannia Industries who operate the surf centre, read in the local press the first board was looking for a home and offered to display it there.
Britannia Industries has supported Joe's Appeal over the years, buying several of the hand made paddle mirrors which have been auctioned off and hosting events at Fistral helping to raise Joe's current total to £122k.
Joe's sixth anniversary, which was on 7th May also saw the launch of the first Crowdfunder page for the appeal which will help raise money to pay for the paddlers wrist bands and trophies as well as helping the Way family reach their target of £125,00.00 for over 20 great causes at this years Paddle for Life.
Crowdfunding is an alternative means of funding that allows individuals to take their ideas forward and make them a reality with the power of the crowd and change the world around them.
You can support the Paddle for Life, which is also Newquay's only free music gig with four bands playing at the harbour by pledging for signed posters, t-shirts and hoodies. To see what's on offer and to join the crowd go to www.crowdfunder.co.uk/Paddle-for-life
Matt Joe's Dad said, "Its great that the longboard is on display at Fistral we go there all the time as a family and Fistral is one of the reasons I left France to live in the UK, I've surfed here for fifteen years and we have so many fond memory's of Joe here it was the perfect place".
After posting on the appeals on facebook that photos with the board would be welcome, "Made in Chelsea" star Andy Jordan posed with surfers for a photo. Andy was in Newquay on a lifeguard course and was also signing some goodies for the wave project which he supports.
The paddle for life with the free sunset music sessions is on Thursday 26th June for more information and interviews go to www.joewaypaddle.co.uk