The Feeling will be headlining a stellar bill of acts at the Sundowner Sessions at Lusty Glaze Beach, Newquay on 24th July, 2014.
The Ivor Novello Award winners will play to the crowds as the sun sets into the ocean at Newquay's Lusty Glaze Beach.
The band are famous for hits including the top 10 singles, Never Be Lonely, Love it When You Call and Sewn, from their 2006 debut album Twelve Stops and Home.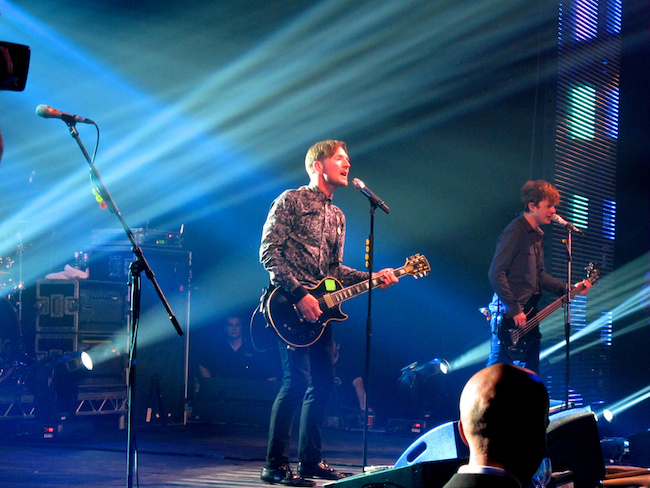 Image: © Paul Williams – http://www.flickr.com/photos/pcw/7511306502/in/photostream/
More recently, The Feeling released the number 1 album, Join With Us in 2008. This was followed by a string of tours around the world and their two follow up albums, Together we were Made and Boy Cried Wolf, the latter of which was deemed to be the best album of their career by Q Magazine and Sunday Times Culture.
Tickets are available  through the Lusty Glaze ticket office (no booking fee) on 01637 872444 or info@lustyglaze.co.uk via our booking agent Seetickets (booking fee applies).
Please see essential event information here.
Please remember that the only access to Lusty Glaze Beach is via 133 steps, so those with mobility issues may wish to visit the site before purchasing tickets.
2014 Sundowner Sessions
Friday 4th April – Holly Morwenna
Friday 11th April – Land of The Giants
Friday 18th April – The Good Times
Friday 25th April – Jessica McEvoy
Friday 2nd May – Saskia Maxwell
Thursday 8th May – James Shead
Thursday 15th May – Joe Hurworth
Thursday 22nd May – Garath Lee & Annie Baylis Gray
Thursday 12th June – Slim Semora
Thursday 19th June – Gaz Brookfield
Thursday 26th June – Louella and the Gambit
Thursday 3rd July – Abee Hague
Friday 4th July – Celtic evening (details to be announced)
Thursday 10th July – Russel Sinclaire
Thursday 17th July – Peter Crawford
Sunday 20th July – Motown Pirates (and Dodgeball)
Thursday 24th July – The Feeling – ticketed event
Thursday 7th August – The Flats and Sharps
Thursday 14th August – Jamie Beau
Thursday 21st August – Johanna Graham Jazz Quartet
Friday 22nd August – The Vans
Thursday 28th August – Slim Semora
Thursday 4th September – Lucy Anna
Friday 10th October – Jenna Witts
Friday 31st Ocotber – Halloween Party with The Freedom and Guilt Equation (details TBC)