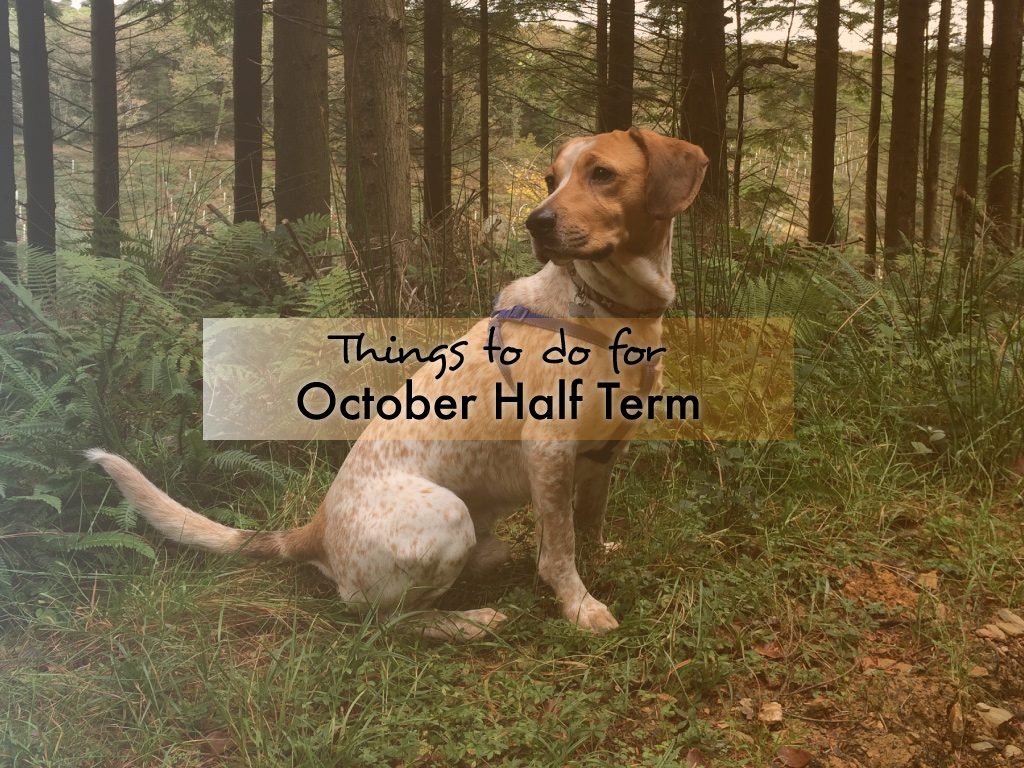 This time of year is a wonderful time to be in Cornwall. With the leaves crunching under your feet, Cornwall comes alive in the Autumn with an abundance of family friendly activities… often themed towards, you've guessed it, Halloween.
We've compiled a few things we think are worth doing this October half term in and around Newquay.

1. Newquay Bat Trail – Runs 21st – 28th October.
Spooky bats are taking over the town this Halloween, help Newquay BID find them all!
Bats are taking up residence in businesses across the town and Newquay BID is inviting families to search for them in order to win treats this Halloween.
The competition, created by Newquay Business Improvement District (BID), involves children (accompanied by an adult) following the trail to help find the hidden bats. Participants just need to solve the clues to find the business locations. Clue sheets will be made available from the Tourist Information Centre from Saturday 21st October.
Participating businesses will give each child a stamp on their clue sheet once they have been into the shop. Once the clue sheet has been completed it can be handed to Newquay Tourist Information Centre where the keen Bat Collectors can claim a Halloween treat! The trail does not have to be completed all in one day and budding bat adventurers have until Monday 30th October to return their completed sheet.
For more information on the Bat Trail visit: Newquay Bid.
2. Creepy Creek – at Camel Creek – Runs 21st – 28th October.
Camel Creek will be hosting an abundance of ghoulish activities throughout October Half Term as guests prepare to be tricked and treated from 21st-29th October.
An additional scare zone aimed at children 7 and over will accompany the popular "Crocodile Crypt" scare zone aimed at those with a more nervous disposition.
The Demon Drop will be transformed into a hair-raising maze with animated characters in costume providing thrills along the way. (All children under 16 must be accompanied by an adult)
Activities included in admission price:
Camel Creek Witch's Grotto
"Old Creeker's Mine" the thrilling scare zone for over 7's
"Crocodile Crypt" scare zone for under 7's
Free gift for children in fancy-dress
Spooky Games
Mystical Magic Show
Freaky Face Painting
Grim Reaper Ghost Train
Snake & Spider encounter
For more information on Creepy Creek visit Camel Creek.
3. Cats – from Newquay Stage Company – Runs 25th, 26th, 27th & 28th October (extra matinee at 2.30pm on Saturday 28th)
 Newquay Stage Company presents…
'Cats'
Based on T. S. Eliot's Old Possum's Book of Practical Cats, the show is set amongst a larger- than-life junkyard playground and is alive with our favourite feline characters including Rum Tum Tugger, Mr. Mistoffelees, Macavity, Jennyanydots, Old Deuteronomy, Grizabella and Skimbleshanks.
The Jellicle Cats come out to play on one special night of the year – the night of the Jellicle Ball.
One by one they tell their stories for the amusement of Old Deuteronomy, their wise and benevolent leader, who must choose one of the Cats to ascend to The Heaviside Layer and be reborn into a whole new Jellicle life.
Midnight. Not a sound from the pavement.
There is a Matinee at 2.30pm Saturday 28th October.
'Meet the CATS' after the Matinee – Buy yourself a 'Junk Yard Pass' £2.50
4. ZOMBIE CRAWL – 28th October – begins at 1pm.
Newquay BID's Zombie Crawl is back with a vengeance, bigger and better than before!
This free family event takes place on Saturday 28th October. It all starts with Titan performing in the piazza opposite the Lighthouse Cinema at 1pm. Then there's a family disco at The Cribbar with face painters and a dance workshop by Unity Dance and Mind.
The Zombie Crawl starts from Gover Lane at 3pm, ending with a family party at the Hotel Victoria at 3.30pm, followed by an acrobatic show at 5pm and Titan performing again at 6pm.
This year, watch out for stiltwalkers, street dancers, scary statues and the creepy campervan photo booth.
5. FRIGHT NIGHT – NEWQUAY ZOO – 30th October – Shows at 6:00 pm, 8:30pm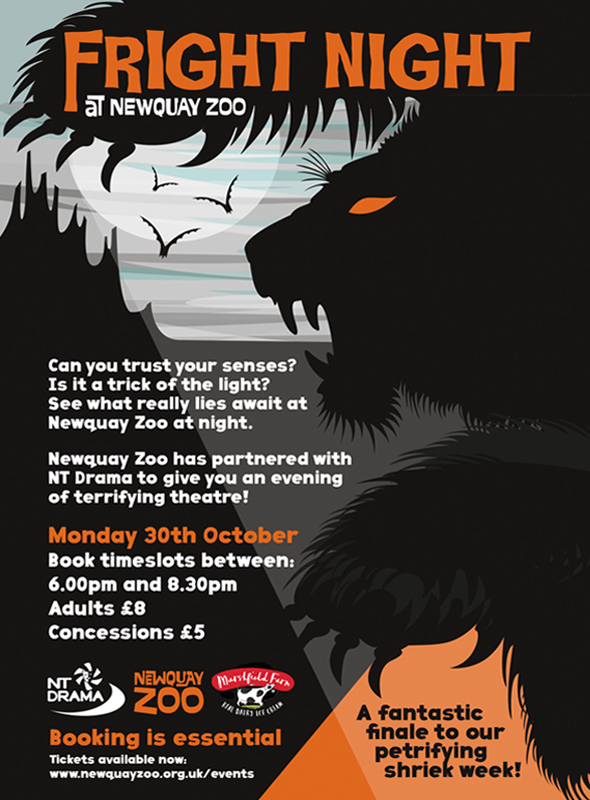 Why not visit Newquay Zoo for Fright Night this October?
The zoo, partnered with NT Drama, from Newquay Tretherras Academy, invite you to an evening of terror on the 30th of October. Watch the frightfully spooky stories performed in the deepest darkest depths of Newquay Zoo, led by some of our supernatural story tellers. Enjoy a hot chocolate and a stroll around the zoo at night lit by torch light – you don't know what horror's you'll find!
Tickets are £8 for Adults and £5 for concession and include a 45 minute guided theatre tour. Time slots are to be selected upon ticket purchase.
Booking is essential. Tickets can be purchased here.
Time slots are available from 6.00pm, with the last tour running at 7.45pm. The event will run until 8.30pm approx.
All proceeds raised from this event will be used to support the conservation charity work at Newquay Zoo​.
6. Take a trip to the woods
During the Autumn, Newquay really is beautiful. Newquay is most famous for its beaches but why not head out of town a little to one of the nearby woodland areas.  Watch as the leaves turn amber and hear the crunch as they fall under your feet at Tehidy, Cardinham and Respryn Woods.
These woodland are all within a 40 minute drive of Newquay and are perfect for stretching your legs and to get those tails wagging. Cardinham Woods also has a lovely little cafe well worth a visit for a Cornish cream tea or light lunch after your autumnal walk.
For more ideas this half term, take a look at our What's On Events Calendar.