The Road Train will commence on Monday 3rd April until the end of October.
Adult fare is £6.50 & Children under twelve £1.50
Everyone enjoys a ride on Newquay's famous Road Train. The relaxing 5 mile open-air journey around the resort is made much more interesting by the conductor's well-informed commentary which is around 40-50minutes. The fully flexible ticket and hop-on-hop-off service offers excellent value for money, allowing you a full day's access to this fun form of alternative transport! The first Train of the day departs Bank Street at 10.00 a.m., then hourly with the last one at 3.00 p.m.
The route for Newquay's Road Train takes you past the wonderful Trenance Gardens and Boating Lake, through the centre of town and venture back past Newquay's stunning beaches. The road train allows you to visit north, south, east and west of the town without climbing any hills and, having listened to the conductor's commentary, you will know more about Newquay than most locals. There is a wheelchair lift on the rear carriage where we can also carry pushchairs.
It's not just a fun around-town ride, it's a Newquay experience!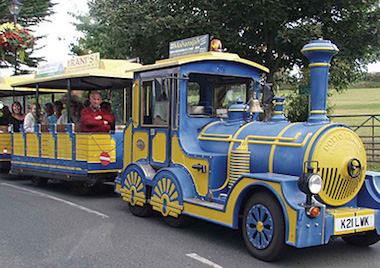 Newquay Road Train Map