DAY 2 HIGHLIGHTS 
FIRST EVER WHIPPER SNAPPERS (U12S) COMPETITION 
PUBLIC BMX & SKATE COMPETITION FINALS
BEACH SESSIONS – FINK
– FISTRAL BEACH, CORNWALL –
Thrilling sporting action continued today down at one of the most stunning festival locations, Fistral Beach, Cornwall as Day 2 of Boardmasters comes to a close.
The UK's biggest surf and music event once again saw big crowds gather on the beach to watch top surfing competition and around the BMX and Skate ramp.
SURFING HIGHLIGHTS:
Surf commentator Nick Williams takes us through today's highlights from the surf at Fistral Beach:
"Day 2 of Boardmasters started early with the Men's Open division to capitalise on a dropping tide which was a smart move allowing us to get through the 2nd round sweetly. We then moved to the SunGod Women's  Open division and proceeded to the quarter finals. The standout surfer was the raining UK Pro Tour Women's champ Keisha Eyre with some incredible surfing. Animal Pro Junior competitor Harry De Roth scored the highest score of the day, the St Ives surfer is definitely one to watch.
Today we made history with our first winner of the first ever U12 competition, the Whipper Snappers division. As expected, the top podium spot went to Stanley Norman, who made no mistakes and showed his form.
We were stoked with the crowds out here at Fistral beach today. Day 3 is going to be an early start, so we look forward to having everyone back for another great day of surfing."
Results:
| | |
| --- | --- |
| Place | Name |
| 1st | Stanley Norman |
| 2nd | Noah Capps |
| 3rd | Bertie Norman |
| 4th | Aiden Hopkins |
SKATE HIGHLIGHTS:
MC and Pro Skater James Threlfall explains what happened in todays Public Skate Jam:
"The Public Skate contest couldn't have been a better way to kick off Boardmasters 2014, with riders as young as six turning out to compete.Finley Kirby was a standout in the U16 division, smashing his way into the over 16s finals alongside Sol Hawkins and Jack Foster. Josh Rounding, Jake Sparham and Matt Beer joined them and the six were set to destroy the finals. Jake nailed some of the highest and most stylishairs of the contest, but was pipped to second by the super flowy Matt Beer,using every inch of the ramp, incorporating a wide range of transfers. Whentime ran out, it was Josh who had secured himself first place and a well deserved qualification into the PRO contest with a mad variety of technicalgrinds and lip tricks mixed in with some huge airs on the big section of the half pipe! Expect things to heat up in the PRO practice tomorrow from 2.30pm."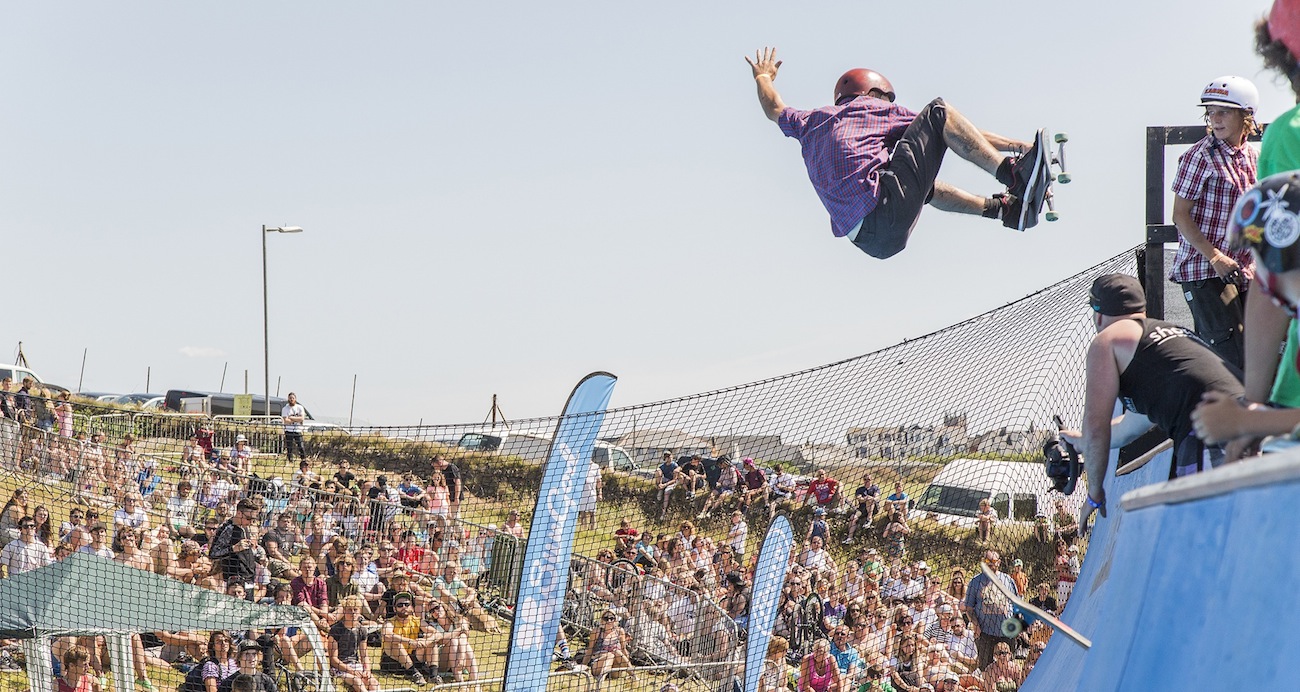 Results:
| | |
| --- | --- |
| Place | Name |
| 1st | Josh Rounding* |
| 2nd | Matt Beer |
| 3rd | Jake Sparkham |
| 4th | Finley Kirby |
| 5th | Jack Foster |
| 6th | Sol Hawkins |
*Qualified into PRO comp
BMX HIGHLIGHTS: 
BMX MC James Hitchcox takes us through todays Public BMX Jam:
"We had a rad session today with local rippers turning up in their numbers competing to qualify into the BMX PRO competition. One local rider attempted a flair drop in that didn't pay out but we also had a girl rider join in, Holly Bendall, who handled herself very well and showed great determination. Newquay ripper, Jamie Eastwood took the win going bigger than any other rider with 10ft airs and double tail whips. He had a real smooth and 'floaty' style. It's great to see a local lad qualify into the PRO competition tomorrow, make sure to check out the PRO BMX practice from 11am."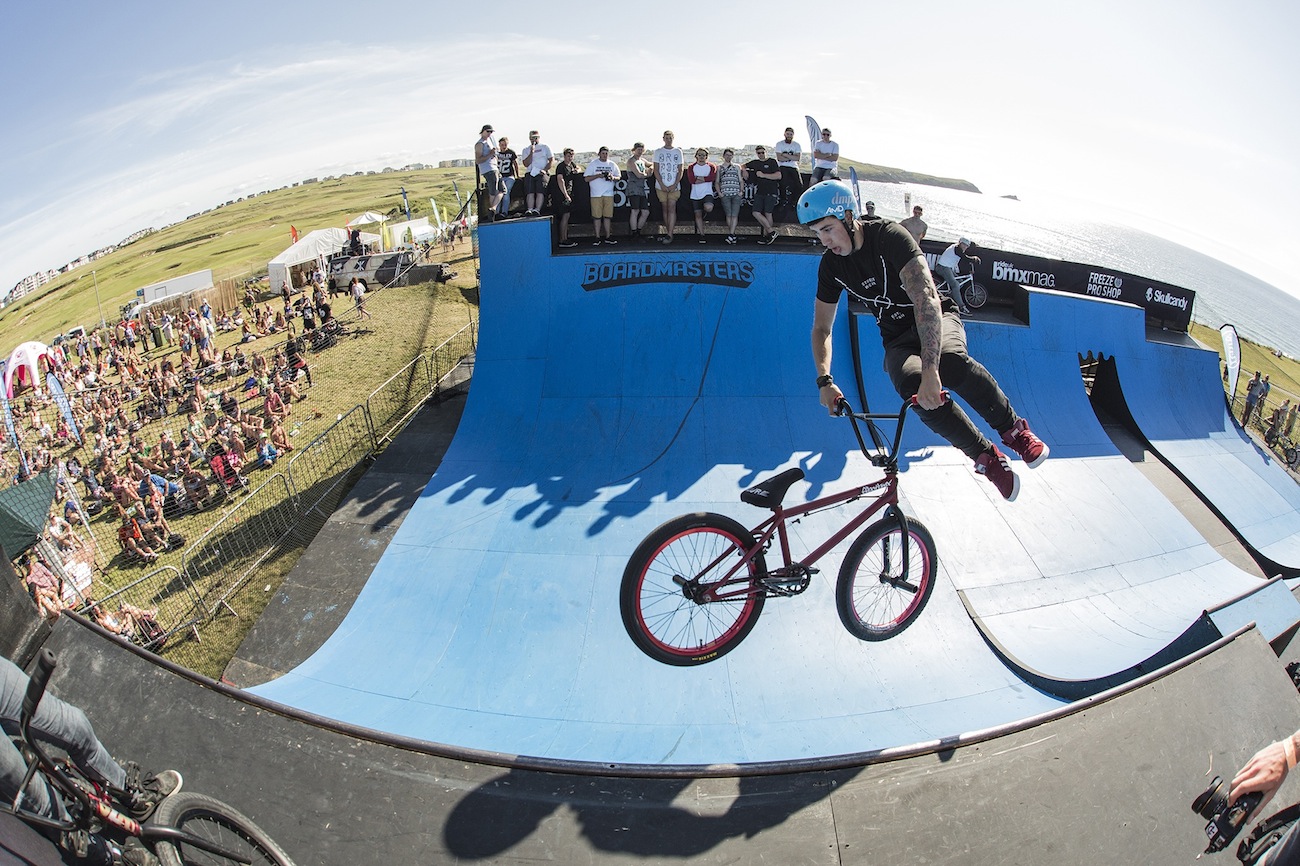 Results:
| | |
| --- | --- |
| 1st | Jamie Eastwood* |
| 2nd | Mike Duffy |
| 3rd | Lee Carter |
| 4th | Dave Clark |
| 5th | Robbie Taylor |
| 6th | Callum Argent |
*Qualified into PRO comp
Bringing Day 2 of Boardmasters to a close was local Cornwall singer-songwriter Fink performing to a packed tent at the final Beach Sessions gig. Supported by Aussie surfers Sunset Sons, Thomas J Speight andMarcus McCoan, Fink's stunning acoustic set has been the perfect end to an awesome day at Fistral Beach.
Boardmasters Fistral Beach site is open until Sunday, no ticket necessary so festivalgoers and locals are free to come down and take in all the sporting action in their own time.
Boardmasters Watergate Bay site opens 10am Friday 8August for a weekend of explosive live music including headline performances from Chase & Status, Snoop Dogg and Bastille.
Images courtesy of Boardmasters and affiliated photographers.