A former Cornish university student is unveiling their exciting Colour & Space exhibiton in Newquay.
Colour & Space have announced an exhibition launch of affordable art at Trenance Cottages, Newquay. The exhibition will showcase a collection of etchings, screen prints and paintings from established and emerging artists and will promote enjoying affordable art in a relaxed and friendly environment. Led by former Famouth University student Rebecca Darch.
The display will include etchings by Louise Davies who is a member of the Royal Society of Painter-Printmakers. Her work is inspired by the landscape and reflects the countryside and coast of where she spent her early childhood. Alongside this will be the eye catching screen prints from Brighton based duo Maze who create strong clean patterns and bold geometric shapes balanced with vibrant colours inspired by 1950's educational book covers, nature and mechanical drawings.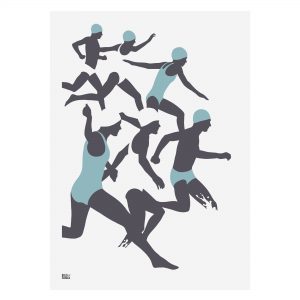 There will also be a burst of coastal creativity from Bold & Noble who create handmade prints that celebrate their love of graphic design, maps and typography. Their designs are printed using traditional methods as well as using recycled or carefully sourced materials. New work will be on display by Newquay based artist Gareth Ellis who has recently taking up printmaking to great success, the prints show his love of Cornwall and depict his favourite views from around the coast.
Indulge your creative side with a fresh new look at affordable art. The Colour & Space exhibition will be on display until Sunday 26th August.
About Colour & Space:
Owned and run by Rebecca Darch who has been involved within the art sector for over 10 years. Rebecca has been painting most of her life and studied Art Practice at Glamorgan University 2004-2007, and MA Curatorial Practice at Falmouth University in 2009. Having successfully worked across the South West since graduating the lure of Cornwall and her family was too great and in 2018 returned to her roots and began looking to set up her own business.
Colour & Space is an online gallery that acts as a platform for bespoke curated exhibitions in locations throughout Cornwall and the South West. Exhibiting a range of paintings and limited edition prints that specialise in contemporary design and printmaking with an aim of helping everyone to enjoy everything creative.
07376 217002